Feed Entries
Roanoke, VA - MudRun
Due to coronavirus (COVID-19), we've made changes to some of our policies, which may affect the races we offer in order to be incompliant with the requirments of the state of Virginia. To view our safety guidelines please view here.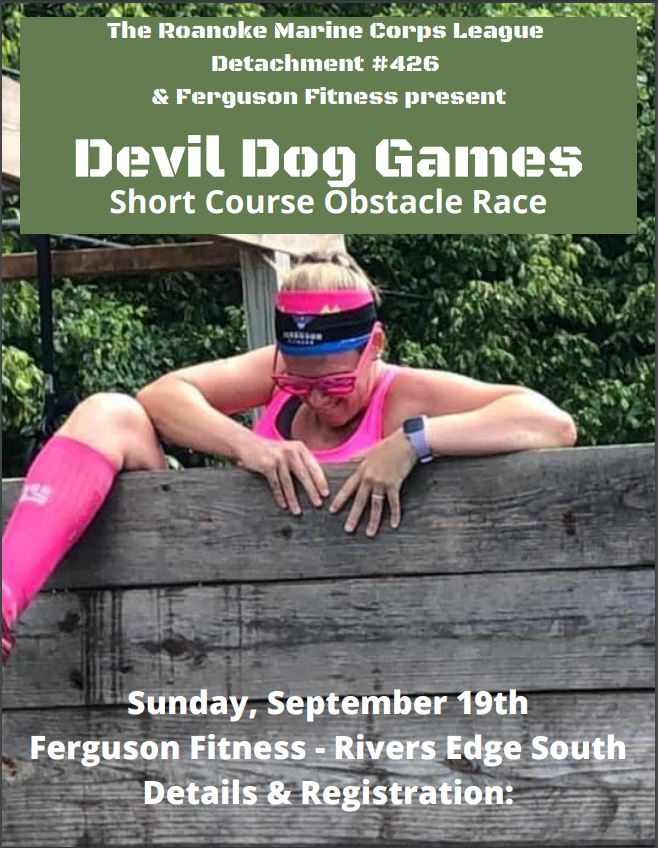 The Roanoke Marine Mud Run will be entering it's 26th year and with that comes a reimagination of the event. We are bringing you a new challenge the Devil Dog Games which will include the following obstacles:
Sprint
4ft Wall
Low crawl
Kettlebell Swings
Hand Release Pushups
Bear Crawls
Ram Curl to Press
Tire Pull
Rope Climb or Burpees
Med Ball Sit Up
Ram Burpees
Tire Jump
Farmers Carry
This year is a scaled down version of our original Mud Run with a focus on the obstacles and not as much running as our previous Devil Dog Dare. Please notice there are several heats to sign up for, please sign up for the heat time that works best for you.
MARINE MUD RUN VIRTUAL: You can take on the VIRTUAL 5K MUD RUN anywhere! You can take this on anywhere and encourage running on trying trails or state parks for a more authentic "mud run" experience. Sign up by selecting the appropriate VIRTUAL race.
VIRTUAL 5k Mud Run - You can take on the Virtual Marine Mud Run anywhere! For a more authentic "Mud Run" experience, choose a trail, state park or other area with more challenging terrain. 5K Run
*This is a building year for the Mud Run and we are focusing on raising funds for Camp Roanoke and Toys for Tots with that said we will not be giving out t-shirts or medals to the participants. If you wish to purchase a t-shirt please visit this website: https://teespring.com/stores/roanoke-marine-mud-run.
Follow us